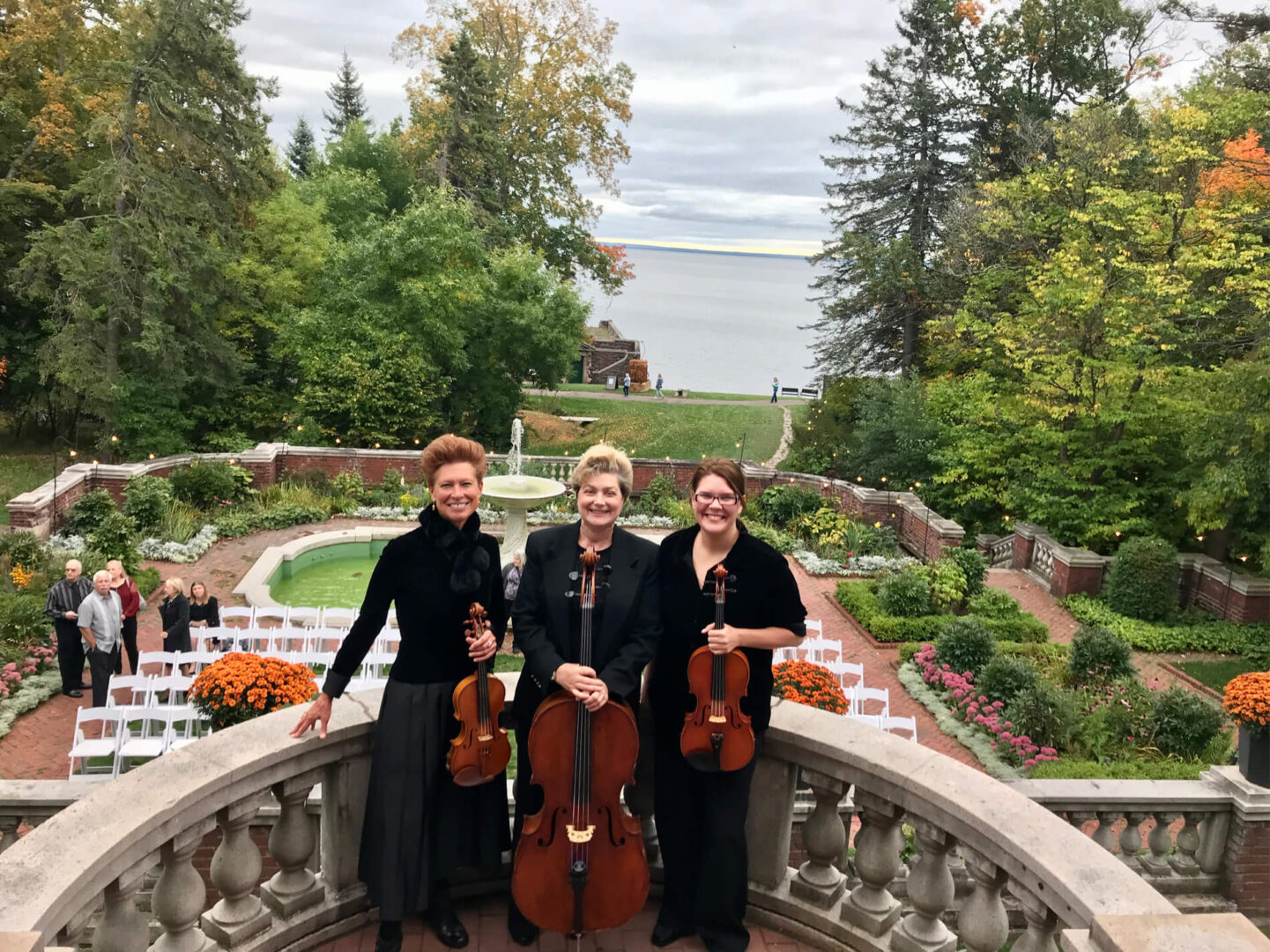 Price List for Sound of Strings Ensembles
Wedding Ceremony:
Solo Violin or Piano: $165
Violin & Cello Duo: $315
String Trio (Violin, Viola, Cello): $440
String Quartet (2 Violins, Viola, Cello): $570
30 minutes of Prelude Music before the Ceremony begins
Bridal & Attendants Entrance Music
Optional Music for Candle Lighting, Communion etc…
Bridal Party Recessional
Postlude Music is played until guests have left their seats
(Please note that Sound of Strings Musicians do not attend the Wedding Rehearsal. All logistics are worked out prior to the Ceremony. Most Weddings follow the same format - just with different locations and ministers. Our decades of experience have prepared us for any type of ceremony and all details are talked through on the phone or through email.)
Reception Music is an additional $50 per hour per Musician. This rate is only if Sound of Strings also played at the Ceremony. If you are hiring Sound of Strings only for the Reception or a Special Event, the price is $60 per hour per Musician with a 2 hour minimum.
Possible Additional Costs (These will be agreed upon prior to contract signing)
Rehearsing with singers or other non-Sound of Strings Musicians is an additional $20 per Sound of Strings Musician. Rehearsals are on the day of the Wedding, 1 hour prior to the Ceremony time and at the Ceremony location. Sound of Strings is not responsible for hiring or paying other musicians. We are however used to playing with singers and instrumentalists and are willing to combine talents.
If you are requesting a song not on our song list you may choose to have it customized for strings and arranged for Sound of Strings to perform.
Cost is $30 per song and a piano part must be available and given to Music Arranger Michelle Gribbon at least 1 month before the event.
A mileage fee of $.25 @ mile per musician will be added for any location more than 45 minutes outside of Duluth. This includes Grand Superior Lodge, Superior Shores Resort, Fortune Bay, Gooseberry Falls, Giant's Ridge and Lutsen.
A $100 deposit and a signed contract are required for booking and the balance is due no later than 2 weeks prior to the event. Payments may be made through Venmo, Apple Pay or check. Deposits are non-refundable.
WEDDING REPERTOIRE
Sound of Strings Song List 2021
This is constantly being added to, and we are not limited to only the songs on this list.
If you request a song not on our list you may choose to have it arranged for the Sound of Strings Musicians to play for $30 per song. Piano sheet music must be supplied to Music Arranger Michelle Gribbon for use in creating the custom string parts at least one month prior to the performance.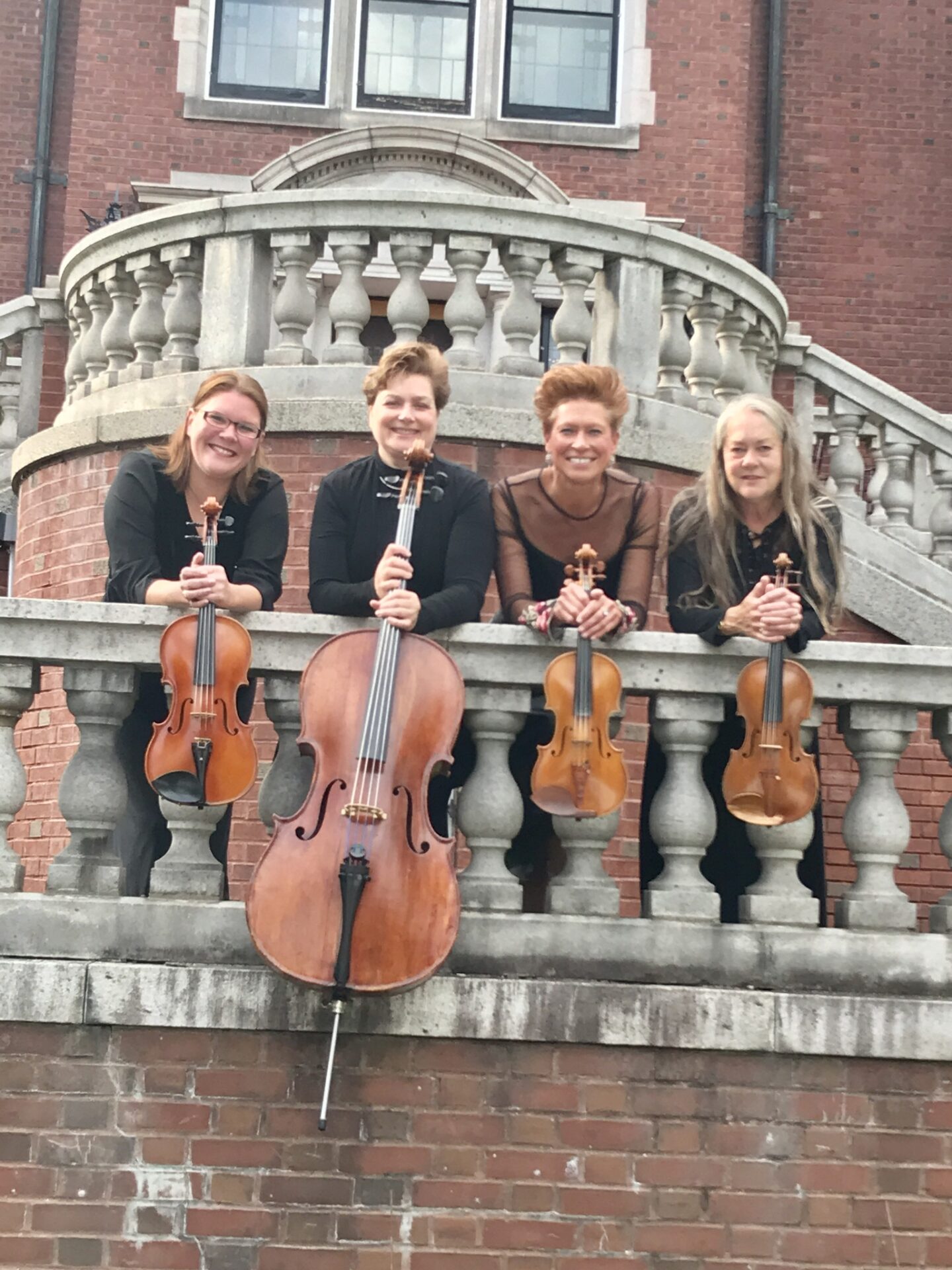 Sacred Style

(Any church hymn can be played without an arrangement fee as long as there is a piano part)
Ave Maria by Schubert
Ave Maria by Bach
Ave Maria by Caccini
Panis Angelicus by Franck
The Gift of Love
Be Thou My Vision
The Prayer by Sager
Children of the Heavenly Father
Simple Gifts
How Beautiful by Paris
The Lord's Prayer by Malotte
On Eagle's Wings
I am the Bread of Life
I, Lord of Sea and Sky
Amazing Grace
Hallelujah (Cohen)
Rondeau by Mouret
La Rejouissance by Handel
Jesu, Joy of Man's Desiring by Bach
Canon in D by Pachelbel
Serenade by Haydn
Passacaile by Handel
Trumpet Voluntary by Clarke
Traditional Bridal March by Wagner
Traditional Bridal Recessional by Mendelssohn
Ode to Joy by Beethoven
Queen of Sheba by Handel
Trumpet Tune by Purcell
Water Music Suite by Handel
Sheep May Safely Graze by Bach
Salut d' Amour by Elgar
Meditation from Thais by Massenet
Brandenburg Concertos in GM & DM by Bach
Spring from The Four Seasons by Vivaldi
Largo from Winter from The Four Seasons by Vivaldi
Arioso by Bach
Air on a G String by Bach
Fur Elise by Beethoven
Eine Kleine Nachtmusik by Mozart
Blue Danube Waltz by Strauss
The Swan by Saint-Saens
Largo from the Lute Concerto by Vivaldi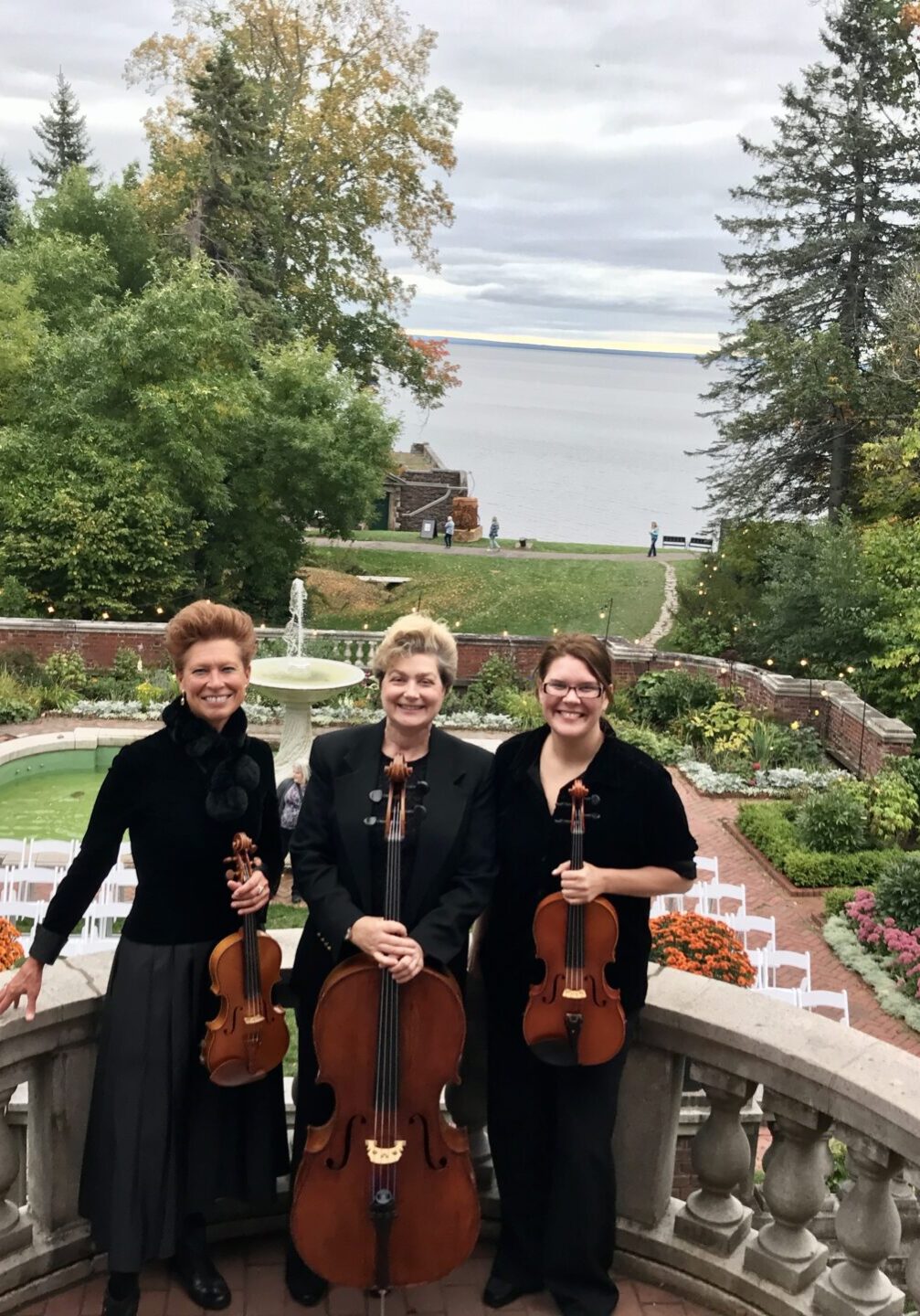 Crazy Little Thing Called Love (Queen)
What a Wonderful World (Louis Armstrong)
Perfect (Ed Sheeran)
Thinking Outloud (Ed Sheeran)
Can't Help Falling in Love (Elvis)
A Million Dreams (The Greatest Showman)
To Make You Feel My Love (Bob Dylan/Adele)
A Thousand Years (Christina Perry)
A Thousand Miles (Vanessa Carlton)
I Choose You (Sara Bareilles)
Marry You (Bruno Mars)
Marry Me (Train)
All of Me (John Legend)
Can You Feel the Love Tonite (Elton John)
You Are the Best Thing (Ray LaMontagne)
Halo (Beyonce)
Harvest Moon (Neil Young)
Happy (Pharrell Williams)
Can't Stop the Feeling (Justin Timberlake)
All You Need is Love (The Beatles)
Best Day of My Life (American Authors)
At Last (Etta James)
Together (Sia)
Love Me Like You Do (Ellie Goulding)
Havana (Camila Cabello)
Ex's & Oh's (Elle King)
Natural (Imagine Dragons)
All About That Bass (Meghan Trainor)
Cheap Thrills (Sia)
Feel It Still (Portugal The Man)
Home (Edward Sharpe & The Magnetic Zeros)
Georgia on My Mind (Ray Charles)
And I Love Her (The Beatles)
Believer (Imagine Dragons)
You Look Good (Lady Antebellum)
Shape of You (Ed Sheeran)
Crazy Love (Michael Buble)
Bittersweet Symphony (The Rolling Stones/The Verve)
Sweet Dreams (Annie Lennox)
A Sky Full of Stars (Coldplay)
Handclap (Fitz and The Tantrums)
Give Me One Reason (Tracy Chapman)
I Believe in a Thing Called Love (The Darkness)
Game of Thrones (Djawadi)
Girl Crush (Little Big Town)
Cherry Wine (Hozier)
We Go Together (Grease)
Here Comes the Sun (The Beatles)
Fly Me to The Moon (Sinatra)
I Love Rock 'n Roll (Joan Jett)
So This is Love (Disney's Cinderella)
First Date (Blink 182)
Hobbit Theme: Concerning Hobbits (Howard Shore)
Wildflowers (Tom Petty)
Tale As Old as Time (Beauty and The Beast)
Song for Sienna (Brian Crain)
A Day Without Rain (Enya)
Only Time (Enya)
Skyfall (Adele)
Sweetest Thing (Bono-U2)
All I Want is You (Bono/The Edge)
I Will Always Love You (Whitney Houston/Dolly Parton)
Today Was a Fairytale (Taylor Swift)
Love Story (Taylor Swift)
Just the Way You Are (Bruno Mars)
The Scientist (Coldplay)
Yellow (Coldplay)
Wake Me Up (Avicii/2Cellos)
Crazy Train (Ozzy Osbourne)
Gotta Feeling (Black Eyed Peas)
My Girl (Smokey Robinson)
All I Ask of You (Phantom of The Opera)
Over The Rainbow (Wizard of Oz)
Only Hope (A Walk to Remember)
Threads of Love (Lorrie Line)
Here, There and Everywhere (The Beatles)
I Will (The Beatles)
In My Life (The Beatles)
Breathe (Faith Hill)
From This Moment (Shania Twain)
Unchained Melody (Ghost)
Just the Way You Look Tonite (Kern)
When I Fall in Love (Nat King Cole)
Unforgettable (Gordon)
Wonderful Tonite (Eric Clapton)
Scar Tissue (Red Hot Chili Peppers)
Flightless Bird, American Mouth (Twilight Saga)
When You Say Nothing at All (Allison Krauss and Union Station)
Jurassic Park (John Williams)
Raiders of the Lost Ark (John Williams)
O Danny Boy
La Vie en Rose
In The Mood
True Colors (Cyndi Lauper)
The Luckiest (Ben Folds)
You Raise Me Up (Rolf Lovland)
Forever and Ever, Amen (Randy Travis)
Stubborn Love (The Lumineers)
Stand By Me (King, Leiber & Stoller)
Maria (West Side Story)
H.O.L.Y. (Florida Georgia Line)
Cosmic Love (Florence and The Machine)
Husavik/My Home Town (Eurovision Story of Fire Saga)
For Emma (Bon Iver)
Annie's Song (John Denver)
I Swear (John Michael Montgomery)
River Flows in You (Yiruma)
Watermelon Sugar (Harry Styles)
You Are the Reason (Calum Scott)
Play Me (Neil Diamond)
Quidditch World Cup from Harry Potter (Patrick Doyle)
BANG! (Metzger)
Sunday Best (Surfaces)
Fallin' - Adrenaline (Homem-Christo)
Wedding & Event Musicians
Below is a sample ceremony music structure for most wedding ceremonies. To view pricing, please check our Wedding Price List.
Prelude (Music While Guests Enter)
The pre-wedding music sets the mood for the actual ceremony. This begins 30 minutes before the scheduled ceremony time. This music should reflect the style of music you and your family love. Whether classical pieces by Bach, Mozart or Handel or contemporary songs by Adele, Coldplay or The Beatles, our extensive song list gives you tremendous options to customize the music to your own personal taste.
Processional Music (Walking Down the Aisle)
The most popular wedding song is the famous "Canon in D" by Pachelbel, but don't let tradition keep you from using newer pieces like "A Thousand Years" by Christina Perry or "I Choose You" by Sara Bareilles.
*Mothers/Grandparents Entrance – This is optional as a special song as it is sometimes combined with prelude music or the wedding party processional
 *Wedding party Processional: Bridesmaids, Maid of Honor, Flowergirls/Ring Bear, Groomsmen, Groom
*Bridal Entrance
This is the part within the ceremony where there is a candle lighting or sand ceremony or some other special moment in the ceremony. It is always nice to have background music & the song choice should be a song or style meaningful to the couple.
Recessional (Exiting or End of Ceremony Song)
The recessional song usually begins immediately after the officiant introduces the new couple to the guests as newly married. This music is generally upbeat and joyful. Beside the traditional "Wedding March" by Mendelssohn, new popular pieces could be "A Sky Full of Stars" by Coldplay, "All You Need is Love" by The Beatles, or "Home" by Sharpe & the Magnetic Zeros
Postlude (Music While Guests Exit)
The purpose of the postlude is to provide joyful music to accompany the departure of your guests from the wedding ceremony. Personal taste dictates a choice of fast and happy classical selections like "Spring" from the Four Seasons by Vivaldi or a contemporary song like "Marry Me" by Train.
Commonly asked questions:
We play all or as much of the music list as seen above.
We do not normally attend wedding rehearsals as most of the logistics and details directly affecting the musicians's performance are worked out prior to the rehearsal.  Our decades of experience have prepared us for any type of ceremony.
Yes. We often collaborate with other musicians. Please see the price list for this option and note that we rehearse with them 1 hour before the ceremony. Music must be provided to Sound of Strings in order to rehearse and perform with non-Sound of Strings musicians.
Yes and yes. Start by reviewing the song list provided by Sound of Strings and if you don't see what you are looking for, then you may have the option to have music especially arranged for you. See the price list for that option.
If you don't want to choose all the songs for prelude, postlude and reception, you can just select a few of your favorites and then Sound of Strings will fill in the rest of the music in the same style.
Our pricing varies depending on how many musicians you'd like for your event. To view pricing, please check our Wedding Price List.